It's not always easy being a modern day Renaissance woman, but it sure is a lot of fun!
was born in Albuquerque, NM, grew up in Virginia, near Washington D.C., and now lives in her favorite city, San Francisco, California. Heather was one of those kids who always scored exactly the same in math and verbal sections on those really fun standardized tests. As such, she is compelled to feed both the analytical and creative sides of her brain, while working as a mask artist, a photographer, a fashion and costume designer, a computer dork, and a whole lot more.
Always striving for balance, Heather happily multi-tasks between tactile creation, visual stimulation, strategic conversation, and binary equations. Rather than scattering her energies, this allows her to focus and enjoy each task at hand. As a Scorpio in Leo rising with 6 planets in Scorpio, you can bet that Heather is a detail oriented professional in every endeavor.
As a mask artist and a designer, Heather is compelled to create beauty and infuse positive energy and fun into life whenever possible. As a Halloween baby, she admits to having a lifelong costume addiction. Heather particularly enjoys the engineering and aesthetic challenges of sculpture for the face or the whole body!
As a photographer, Heather enjoys telling stories with pictures and capturing moments of pure beauty and honesty. She is fortunate enough to often be surrounded by photo moments, whether crystal blue skies, the first flowers of spring, or exceptional costumes at theme parties. She's thrilled to be able to save some of those memories for herself and others. As CameraGirl, Heather has taken responsibility for capturing and sharing the story of the Center Camp Cafe and Camp Arctica at Burning Man. She is privileged and honored to witness such profound acts of creation and beauty among a community of interesting and inspiring individuals, and even happier that she can share their story with others.
Don't let the glittering masks and furry costumes fool you, Heather has a Masters Degree in Computer Science and spent nearly 10 years as a highly successful consultant in a global computer services corporation. She has experience with a wide range of technical platforms, has programmed in at least a dozen languages, and worked in the full range of software development activities, from business development through production support and even management. She is living proof that a blue haired girl and CIO's can work very effectively together!
When not pursuing one of these activities, Heather can be found on her yoga mat, walking in Golden Gate Park, on some sort of adventure, or participating in the Burning Man community.
Thanks for visiting and thanks for reading this far. Namaste and may the force be with you!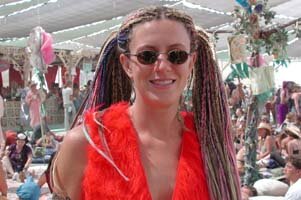 Heather, AKA CameraGirl, at Burning Man 2001.